New Eloqua eBook Details How to Build and Grow a Vibrant Customer and Prospect Community
"Grande Guide to Community Management" Serves Up Practical Knowledge for Emerging Field

VIENNA, VA -- (Marketwire) -- 07/30/12 -- Eloqua, the leading provider of on-demand Revenue Performance Management solutions, today released the "Grande Guide to Community Management," a new manual for businesses looking to build, grow and leverage a strong community following. Written by Brett Petersel, co-Founder of The Community Manager, with contributions from Nate McGee, Alan Beniak and Lauren Harper, the free guide unpacks the benefits, costs, strategies and resources of community management.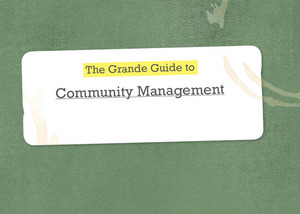 Community management has quickly gone from a vague concept to a full-time job. The world's most followed brands realize the value of growing and engaging a lively audience of customers, prospects and employees both online and offline. But many organizations are unsure of how to get started, or how to better leverage the community they already have in place.
Featuring practical knowledge from experienced community managers, the Grande Guide to Community Management dissects the need for this emerging field, the benefits for businesses, and how to measure success -- all in a compact, quick-to-read guide.
"Community management has become a central practice in the modern marketing mix," said Joe Chernov, Eloqua's Vice President of Content Marketing. "The rapid rise of the social Web, along with the continued drive for a personal relationship with customers and prospects, has created a deeper need for community management expertise. Our latest Grande Guide gives marketers the knowledge they need to wrap their heads around this fast-growing field."
The Grande Guide to Community Management is available today along with previous editions of the award-winning series, including the Grande Guide to Personal Branding and the Grande Guide to Social Demand Generation.
About Eloqua
Eloqua provides solutions to help its customers accelerate revenue growth through Revenue Performance Management. Eloqua provides powerful business insight to inform marketing and sales decisions today that drive revenue growth tomorrow. The company's mission is to make its customers the fastest growing companies on Earth. More than 1,000 clients rely on the marketing automation power of Eloqua to improve demand generation and lead management while driving more qualified leads. Eloqua's customers include Adobe, AON, Dow Jones, ADP, Fidelity, Polycom, and National Instruments. The company is headquartered in Vienna, Virginia, with offices in Cambridge, San Francisco, Austin, Toronto, London, Brussels, Frankfurt and Singapore. For more information, visit www.eloqua.com, subscribe to the It's All About Revenue blog, call 866-327-8764, or email demand@eloqua.com.
Image Available: http://www2.marketwire.com/mw/frame_mw?attachid=2051465

Add to Digg Bookmark with del.icio.us Add to Newsvine
Contact:

Sheila Lahar
Eloqua
617-651-8137
sheila.lahar@eloqua.com


Copyright @ Marketwire
Page: 1
Keywords:
Grande Guide, Grande Guide to Community Management, Eloqua community management, Brett Petersel, , Singapore,Marketwire,Internet Technology,Business,Email,
Related Sites:
Creative Mac
,
AEC Newsroom
,
Digital Webcast
,
Hollywood Industry
,
Media Workstation
,
Digital Video Editing
,
IBC News
,
Digital Animators
,
Animation Artist
,
Siggraph News
,
Audio Video Producer
,
BN - Broadcast Newsroom
,
Corporate Media News
,
Digital Game Developer
,
Digital Media Designer
,
MacAnimationPro
,
Digital Post Production
,
Digital Pro Sound
,
DTV Pro
,
DVD Creation
,
DV Format
,
Film Imaging
,
HD Issues
,
Presentation Master
,
MacDVDPro
,
MacVideoPro
,
MacAudioPro
,
MacDesignPro
,
DMN Newswire
,
After Effects
,
CEN - Consumer Electronics Net
,
PhotoShop
,
Final Cut Pro
,
Illustrator
,
Vegas
,
Premiere
,
CEN - AV Software
,
CEN - PDAs
,
CEN - Peripherals
,
CEN - Phones
,
CEN - WiFi
,
Maxon
,
Storage
,
DVD Studio Pro
,
Flash
,
IBN - IT Business Net
,
CEN - iPod
,
Motion
,
BN - NAB
,
CEN - Web
,
BN - Webcast
,
BN - HD
,
BN - DTV
,
BN - IBC
,
BN - Production
,
BN - Avid
,
BN - Acquistion
,
BN - Radio
,
BN - Storage
,
BN - Harris
,
BN - Panasonic
,
BN - JVC
,
BN - Quantel
,
BN - Grass Valley
,
BN - Hardware
,
BN - Software
,
BN - Facilities
,
BN - People
,
BN - Canon
,
BN - Sony
,
BN - Miranda
Related Newsletter:
DMN Newsletter
,
CMN Newsletter
,
Timeline Newsletter
,
Pixels Newsletter
,
Levels Newsletter
,
Loud Newsletter
,
Renders
,
Streamline Newsletter
,
KNews Newsletter
,
DVD Viewpoint
,
BN - HD Weekly
,
DMNForums
,
Tutorial Finder
,
Review Seeker
,
IBN - IT Weekly Newsletter
---